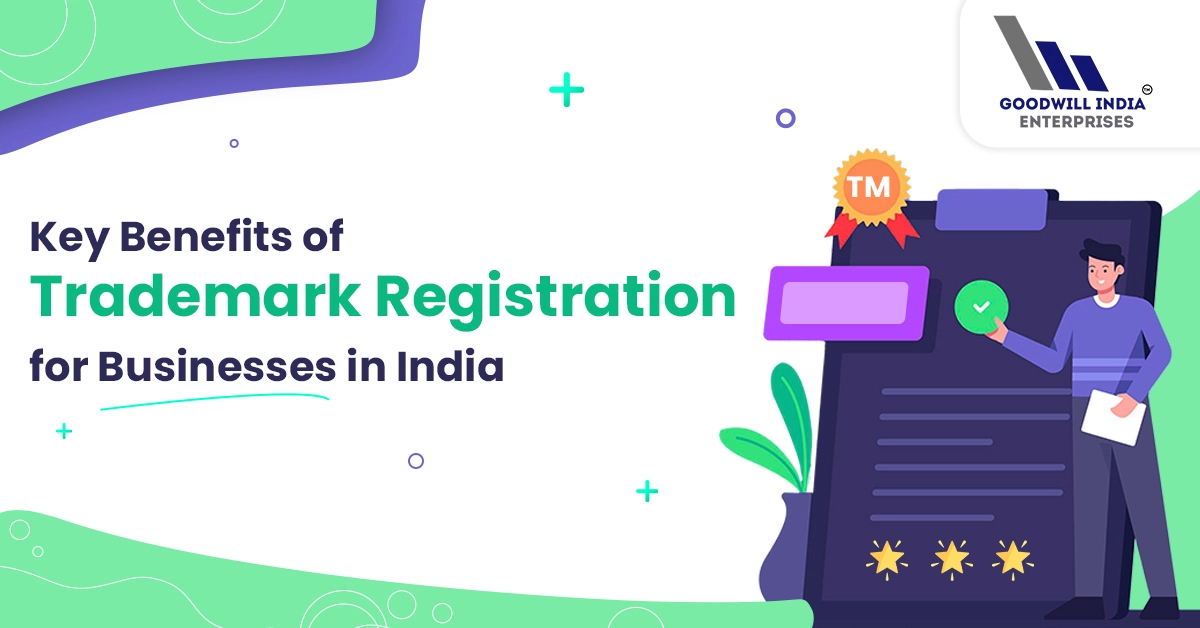 Key Benefits of Trademark Registration for Businesses in India
5 Benefits of Trademark Registration in India
In India, trademark registration has become a vital element of every business. In India, knowledge of trademarks and intellectual property has progressively increased over the years, with thousands of terms trademarked each year. Furthermore, the newly enacted Companies Act of 2013 prohibits company formation with a name that's similar to a brand. As a result, whether you are a current business owner or want to establish a new one, you must seek
trademark registration
for the business name. In this post, we will look at five
benefits why you should trademark your business name in India.
What is Trademark?
A trademark is a brand or logo that you use to identify your goods from rivals' products. Legal intellectual property is a trademark. A trademark can also define as a name, tagline, logo, symbol, design, picture, or a combination of these components. A trademark identifies the owner of a brand for a unique product or service.
What is Trademark Registration?
Trademark registration is the legal registration of brand/ logo registration of every business. Trademark registration is the legal registration procedure of a brand, logo, or brand name under the act of trademark registration Act of 1999. Through Trademark registration, it protects your business, brand, logo, and unique property of your brand. Trademark registration is the asset of the company or business, it provides ownership for the brand, logo, and name. If a company or individual wants to protect its logo against third-party abuse, it must go through the
trademark registration procedure in India
. In the event of trademark infringement, trademark registration provides the legal right to begin legal action against the third party. Trademark registration also provides the ownership rights to use the mark with its products or services.
Advantages Of Trademark Registration
Trademark registration is the legal property and asset of the company. It protects the brand, logo, and name from a third party, copycat, or imposters. Trademark also provides the uniqueness of the brand and company. Registering a trademark has many advantages. Let us discuss the
benefits of trademark registration

.
Trademark Is An Asset
Trademark registration is an intellectual property and intangible asset of the company or business. It is the legal ownership of a brand, logo, and name of a company. You can also include the service or product in the trademark. These assets keep on improving the company or business with uniqueness and with the customer's trust.
Uniqueness And Identity For Brand
Uniqueness and identity are the most important of the brand and business. Registration of the trademark provides a difference and uniqueness from other brands. Trademarks differentiate your brand from others. It helps customers to find your brand easily.
Protect Your Brand
Trademark registration provides ownership of a brand, name, or logo. Protects your brand from unauthorized use. The registered trademark proves that the product is entirely yours, and you have the exclusive right to use, sell, and change the brand or items in any way you see fit.
Customer Can Easily Identify Your Brand
Customers can identify a product with a registered trademark with ease. Because it is a powerful instrument with a distinct identity, registered trademarks are easily traceable. And customers can quickly find your products or service, which also helps to increase customer trust and reliability.
Trademark Is Limitless
Once the trademark is registered, it can remain forever and eternity. Any company can register the trademark and get ownership. But the trademark must be renewed every ten years. However, the brand's identity will go on forever.
Conclusion
Trademark registration is the intangible asset of a company, which protects the brand from unauthorized copycats and imposters. You can register the logo, brand, name, color, tagline, and slogan of the business in the
trademark registration
. In Indian companies, brand protection and safety are critical. Therefore necessary rather than mandatory to
register a trademark in India
. If you plan to register your trademark in India, you can reach Goodwill Filings for a positive result. Our experts will explain all the details and take care of the registration processes. Visit our website or reach us for more services.