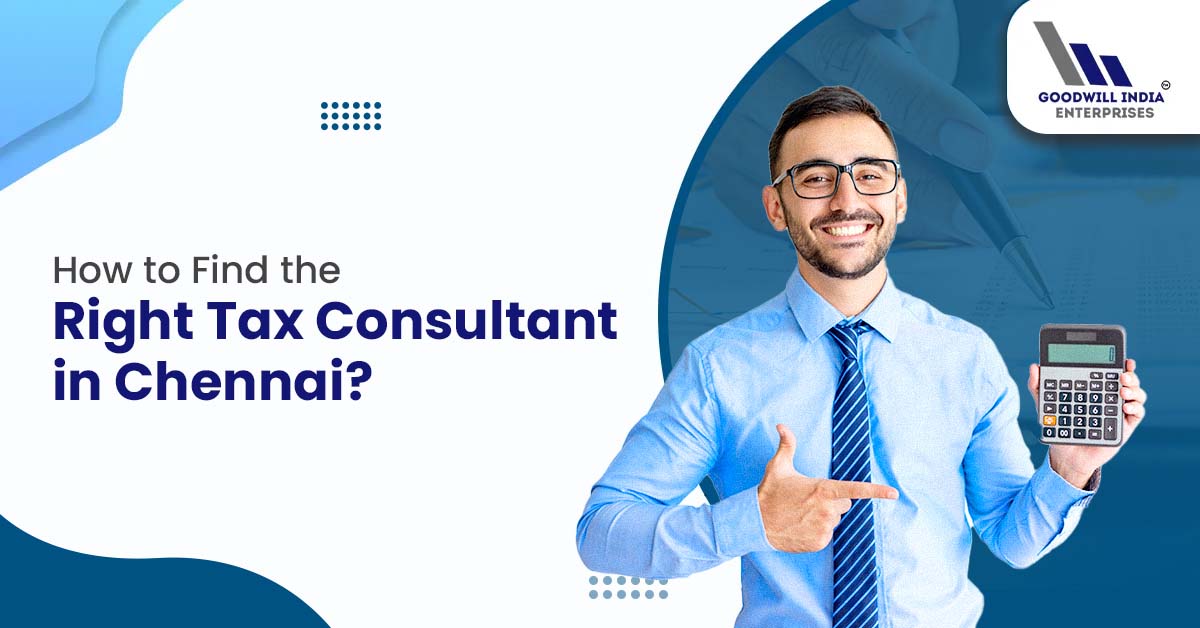 How to Find the Right Tax Consultant in Chennai?
Taxation is a complex domain, and finding the right tax consultant in Chennai can be a challenging task. Whether you're an individual looking for assistance with your personal taxes or a business owner seeking professional guidance for your company's financial matters, selecting the right tax consultant is crucial. In this guide, we'll walk you through the essential steps how do you identify the best tax consultant in Chennai who can meet your specific needs.
Steps to Find the Best Tax Consultant in Chennai
Ask for Recommendations
One of the most effective ways to find a reliable tax consultant in Chennai is by seeking recommendations from friends, family, and colleagues. If you know someone who has had a positive experience with a tax consultant, ask for their advice. Personal referrals can often lead you to a trustworthy professional.
Conduct Online Research
In the digital age, the internet is a valuable resource for finding service providers, including tax consultants. Use search engines to find tax consultants in Chennai and browse their websites. Look for information about their services, client testimonials, and credentials.
Check Credentials and Experience
When assessing potential tax consultants, it's essential to check their credentials. Ensure that they are qualified and have the necessary certifications, such as being a Chartered Accountant (CA). Experience in handling tax matters similar to your needs is also a critical factor to consider.
Evaluate Their Specialization
Taxation is a broad field with various aspects. Some tax consultants specialize in specific areas, such as GST, corporate taxes, or individual tax planning. Choose a consultant whose specialization aligns with your requirements.
Inquire About Their Clientele
It can be beneficial to inquire about the types of clients the tax consultant serves. If you're a business owner, for instance, you may prefer a consultant with experience in handling corporate clients. Likewise, individuals may seek consultants with a strong background in personal tax matters.
Assess Communication Skills
Effective communication is essential in the client-consultant relationship. Ensure that the consultant can explain complex tax matters in a way that you can understand. Clear communication can lead to better tax planning and compliance.
Consider Accessibility
The accessibility of your tax consultant is another critical factor. You should be able to reach out to them when you have questions or concerns. Ensure they are responsive and can provide timely assistance.
Request References
Don't hesitate to request references from the tax consultant. Speaking with past or current clients can provide insights into their competence and reliability. If a consultant is hesitant to provide references, consider it a red flag.
Compare Fees Structure
Cost is a significant consideration when choosing a tax consultant. While you should avoid selecting a consultant solely based on their fees, it's essential to compare costs among potential candidates. Be clear about their fee structure and any additional charges.
Trust Your Instincts
Ultimately, trust your inner instincts when making your final decision. Your chosen tax consultant should not only possess the necessary qualifications and experience but should also make you feel comfortable and confident in their abilities.
Are you looking for assistance with personal income tax, corporate tax, GST, or a combination of these? Goodwill Enterprises emerges as an ideal choice.
Why Choose Goodwill Enterprises as Your Tax Consultant in Chennai?
Comprehensive Expertise
Goodwill Enterprises boasts a team of experienced professionals with expertise in diverse tax domains, including personal income tax, corporate tax, and GST.
Qualified Team
Our team comprises Chartered Accountants (CAs) and tax experts with the knowledge and credentials to handle complex tax matters.
Client-Centric Approach
 We prioritize clear and effective communication. We take the time to understand your unique tax needs and provide tailored solutions.
Proven Track Record
With a history of successful client engagements, we can provide references to showcase our competence and professionalism.
Transparent Fees 
We offer transparent and competitive fee structures, ensuring that you receive value for your investment.
Conclusion
Finding the right tax consultant in Chennai involves careful research and consideration of your unique requirements. By following these steps and partnering with a reputable firm like us, you can navigate the complexities of taxation with confidence and ease.
Read Our Related Blogs