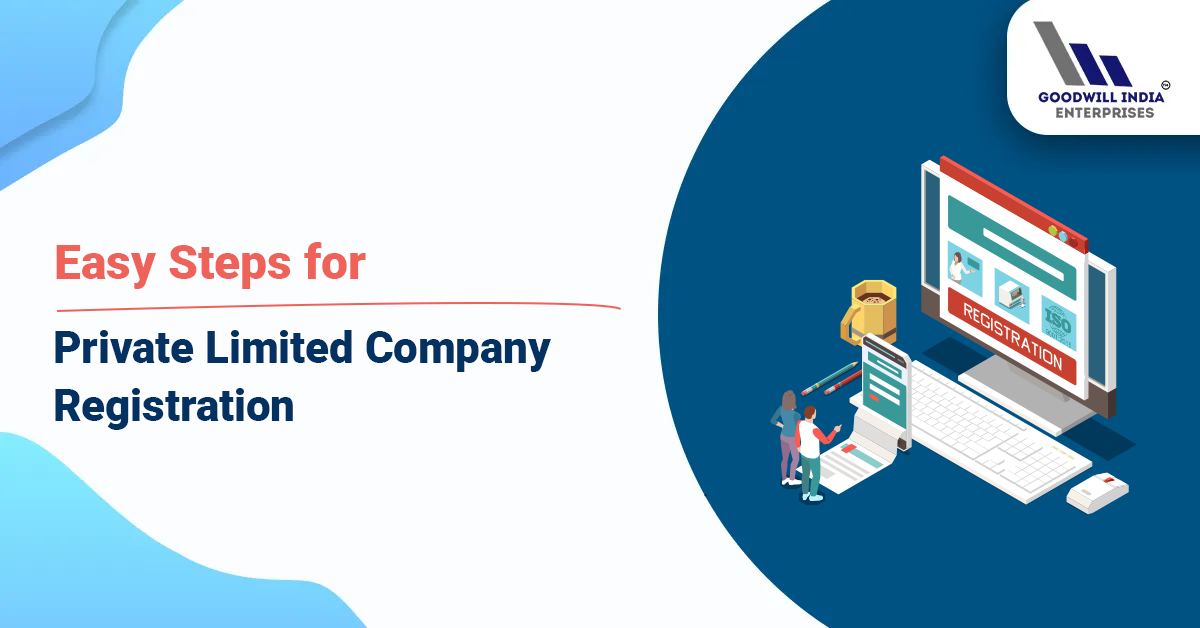 Easy Steps for Private Limited Company Registration in Chennai
Are you an entrepreneur looking to establish a business in Chennai? Choosing a private limited company registration structure can offer numerous benefits, such as limited liability protection, enhanced credibility, and access to funding opportunities. 
In this blog, we will guide you through the simple and crucial steps for company registration in Chennai. Let's get started!
Steps for Company Registration Process
Choose a Unique Company Name
The first step in the registration process is selecting a unique and meaningful name for your private limited company. Ensure that the name is not already registered by checking with the Registrar of Companies (RoC) database. Avoid using any offensive or trademarked terms to prevent potential legal issues.
Obtain Digital Signature Certificate (DSC)
A Digital Signature Certificate is a vital electronic signature required for online company registration. It serves as proof of authenticity for all the documents submitted electronically during the registration process. Obtain DSC for all the proposed directors of the company from certified agencies.
Pertain for Director Identification Number (DIN)
Every business owner must acquire a unique Director Identification Number (DIN). You can apply for your DIN online through the Ministry of Corporate Affairs (MCA) website. Fill out the DIN application form and submit the necessary documents, including address proof and identity proof.
Obtain the Required Documents
Gather the necessary documents for private limited company registration in Chennai. These typically include identity and address proofs of directors, proof of registered office address, and Memorandum of Association (MoA) and Articles of Association (AoA) of the company. Ensure all your documents are precise and up-to-date.
File the Application with RoC
Prepare the company registration application along with the required documents and submit them to the Registrar of Companies in Chennai. The application should include details of directors, shareholders, the company's registered address, and the proposed business activities. Pay the applicable registration fees at this stage.
Obtain Certificate of Incorporation
Once the RoC processes your application and verifies the documents, you will receive the Certificate of Incorporation (CoI). This document officially establishes the existence of your private limited company. It contains the company's Corporate Identification Number (CIN), which is a unique identification number allotted to each company during registration.
Apply for Permanent Account Number (PAN) and Tax Registration
With the CoI in hand, apply for a Permanent Account Number (PAN) from the Income Tax Department. PAN is essential for tax purposes and financial transactions. Additionally, if your company is eligible for Goods and Services Tax (GST) registration, apply for it as well.
Open a Bank Account and Commence Business Operations
Once you have obtained your PAN and GST registration (if applicable), open a bank account in the name of your private limited company registration in chennai. Deposit the minimum required share capital as mentioned in the MoA. Now, you're all set to commence your business operations in Chennai!
Conclusion:
Private limited company registration is a straightforward process that provides numerous advantages, such as limited liability and enhanced credibility. By following the easy steps outlined in this blog, you can swiftly set up your private limited company and embark on a successful entrepreneurial journey. Remember to comply with all legal requirements and seek professional assistance if needed to ensure a seamless registration process. Good luck with your business venture!