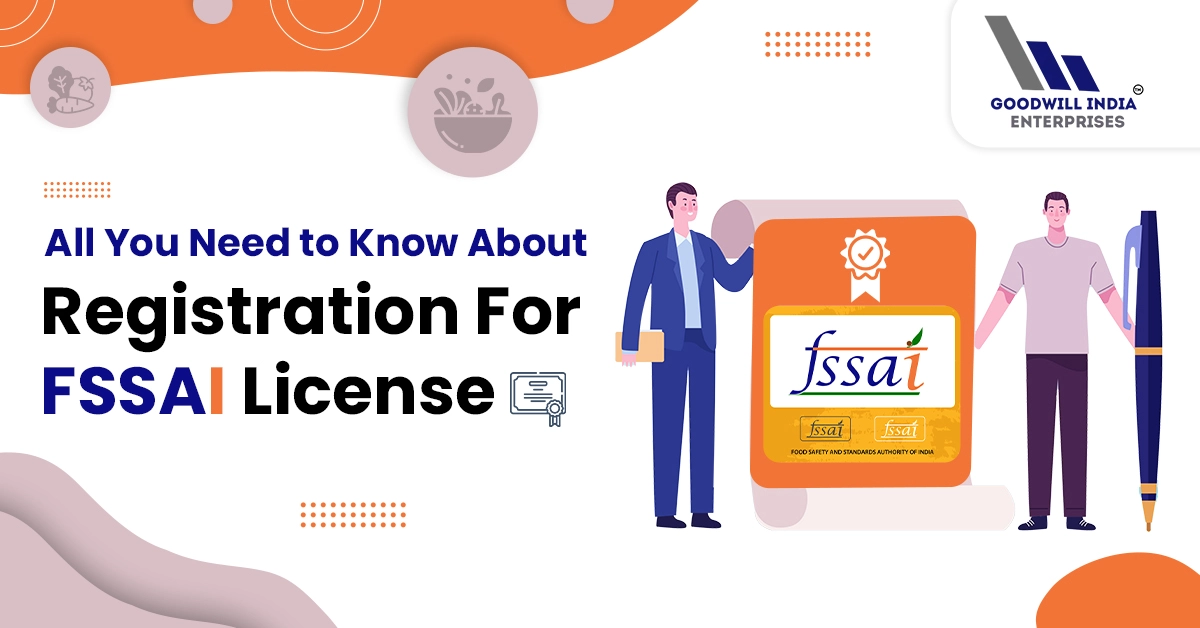 All You Need to Know About Registration For FSSAI License
Everything You Need to Know About FSSAI Registration
FSSAI Registration is a legal certificate representing the quality and brand of food products. The Food Safety and Standards Authority of India (FSSAI) is an agency that supervises and governs the food industry in India. It is a self-governing agency formed by the Government of India's Ministry of Health and Family Welfare.
What Is FSSAI License and Registration
The Food Safety and Standards Entity of India (FSSAI) is a legislative authority in India that issues food licenses to all food business operators (FBO). All FBOs must follow all FSSAI norms and regulations for food quality control. It all depends on elements such as the amount of production, the type of food business management, and the scope of operations. The FBO will receive a 14-digit number during the
FSSAI Registration procedure
, which must be printed on food products. FSSAI registration assures food product safety. It is essentially a food safety certificate given by India's food authorities. An FSSAI license can be issued to any producer, merchant, restaurant, grocery store, importer, or exporter. FSSAI licensing ensures that food items are subjected to stringent quality standards, reducing the number of occurrences of adulteration and inferior products. Goodwill Filings offers
online registration and licenses for the FSSAI in India
. If you are interested in the food industry in India, we can assist you in obtaining an FSSAI License, which will improve the quality of your products.
Types of FSSAI License
Types of FSSAI license registration
are determined by the size and revenue of the firm. The FSSAI license is governed by three types of certifications. There are three types of FSSAI License
Basic FSSAI License
State FSSAI License
Central FSSAI License
Basic FSSAI License
The
FSSAI registration
is for food businesses with small or new firms. Their yearly revenue is less than Rs.12 lakh. Basic registration can be upgraded based on the productivity of your company's sales graph.
State FSSAI License
FBOs with medium-sized businesses can apply for the State FSSAI License. The company has an annual revenue of more than Rs.12 lakhs, or up to Rs.20 crores. Depending on your business sales graph, you can upgrade the state license into a central license.
Central FSSAI License
The Central FSSAI License is only available to food businesses with a high company yearly revenue of more than Rs.20 crores. It is also necessary when supplying government offices or importing/exporting food items.
Purpose And Benefits Of Fssai Registration
Purpose of FSSAI Registration
FSSAI's primary objective is to establish and enforce food safety regulations to protect and advance public health
In addition to establishing food safety standards, it dispels misconceptions about food and food-related businesses from the minds of producers, traders, consumers, and anyone else involved in the food industry directly or indirectly.
The FSSAI ensures that the food you consume is safe and wholesome.
This is why they monitor the ingredients and everyone involved in the food production process.
A plan and objectives are also established. Among other things, they recently set a goal of banning synthetic trans fats by 2022.
Benefits of FSSAI Registration
Increase trust from the customer
Helps to make import and export business
Increase the quality and standard of the product
Regulations on hygiene
Regulations on cleanliness
FSSAI logo in every product to gain trust and standard
It helps in gaining Goodwill.
Can Sell with the FSSAI logo
FSSAI Eligibility and Documents Required
FSSAI Eligibility
The FSSAI statute requires any vendor, retailer, corporation, firm, or industry involved in food and beverage to register. FSSAI laws and regulations must be followed by the registered Food industries. The license registration category is determined by the size and turnover of a company.
Food business operators
Wholesalers
Retailers
Hotels/ Restaurants
Caterings
Distributors
Packers
Manufacturer
Every individual or company engaged in the food-related industry must register.
Documents Required for FSSAI
There are basic documents needed for
registering an FSSAI certificate
.
Documents for Basic FSSAI
Aadhar card of the authorized person.
Passport-size photography of authorized person.
Rental agreement (if rented)
NOC from the landlord if renting.
Last month's EB bill.
Signature of the authorized person.
Documents for State and Central FSSAI
Photograph (Directors, Partners, or Proprietors)
Aadhar and PAN card (for id proof)
Address proof of the firm.
Previous Month's Electricity Bill, if rental (Rental agreement, NOC From Landlord)
Photography of the warehouse, company, and units.
Water test report
Food products list letterhead, seal, and signature
Machinery and plant list letterhead, seal, and signature
Conclusions
Fssai registration is the legal certificate for food business operators. If you do food business without the FSSAI will be punished under the penalty under the FSSAI registration Act. Non-registered FSSAI food business Punishments are may imprisonment and a penalty of up to 5 lakhs. Goodwill Filings is here to ease the registration process for you online. You no need to worry or hesitate about registration. Just contact us our experts will explain the registration process. After that, provide us required documents, and we will complete the process and issue the FSSAI certificate.